Is this thing on?
Right, so halfway through December now and barreling down on <insert winter holiday here>. In the spirit of Festivus, I think there's something we need to get off our chests now.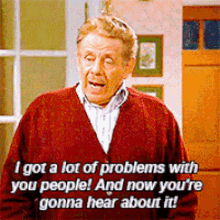 Yes, yes, let us begin the Airing of the Grievances. Whatever you want to gripe about, let it go. Do not keep it inside this close to the holidays.
No word yet if a later NOT will address the Feats of Strength.